RENTAL SERVICES WITH DRIVER
FROM AND TO BARI AIRPORT
Bari airport | all destinations
exclusive or shared service
by Made in South of Italy
Bari airport | all destinations exclusive or shared service
destinations
from 1 to 4 passengers
from 5 to 8 passengers
discount for sharing
Matera
see rates Matera to Bari
Altamura
see rates Matera to Bari
Amalfi
€ 350,00
€ 380,00
- € 50,00
Ancona
€ 500,00
€ 530,00
- € 50,00
Bernalda
€ 110,00
€ 140,00
- € 30,00
Borgo Laino (rafting)
€ 240,00
€ 270,00
- € 50,00
Bologna
€ 900,00
€ 940,00
- € 100,00
Brindisi
€ 190,00
€ 230,00
- € 30,00
Castel del Monte
€ 160,00
€ 190,00
- € 30,00
Castellana grotte
€ 110,00
€ 140,00
- € 30,00
Castellaneta Marina
see ates Bari airport to Jonic Coast
Ferrandina città
€ 110,00
€ 140,00
- € 30,00
Firenze
€ 850,00
€ 890,00
- € 100,00
Gallipoli
€ 250,00
€ 290,00
- € 50,00
Ginosa Marina
see ates Bari airport to Jonic Coast
Grassano
€ 110,00
€ 140,00
- € 30,00
Gravina
€ 100,00
€ 130,00
- € 30,00
Grottole
€ 110,00
€ 140,00
- € 30,00
Lecce
€ 230,00
€ 270,00
- € 50,00
Maratea
€ 300,00
€ 340,00
- € 50,00
Messina (Traghetto escluso)
€ 490.00
€ 530,00
- € 100,00
Metaponto
see ates Bari airport to Jonic Coast
Miglionico
€ 110,00
€ 140,00
- € 30,00
Milano
€ 1.000,00
€ 1200,00
- € 100,00
Napoli
€ 350.00
€ 380,00
- € 50,00
Ostuni
€ 220,00
€ 260,00
- € 50,00
Pescara
€ 400.00
€ 430,00
- € 50,00
Pisticci
€ 110,00
€ 140,00
- € 30,00
Policoro
see ates Bari airport to Jonic Coast
Pomarico
€ 110,00
€ 140,00
- € 50,00
Potenza
€ 150,00
€ 180,00
- € 50,00
Roma aeroporti
€ 550.00
€ 600,00
- € 50,00
Roma città
€ 580.00
€ 630,00
- € 50,00
Roseto Capospulico
see ates Bari airport to Jonic Coast
Salerno
€ 260.00
€ 290,00
- € 50,00
San Giovanni Rotondo
€ 240.00
€ 270,00
- € 50,00
Santa Maria di Leuca
€ 300.00
€ 340,00
- € 50,00
Taranto
€ 120.00
€ 160,00
- € 30,00
Terranova sul  Pollino
€ 150.00
€ 190,00
- € 30,00
Tricarico
€ 130.00
€ 170,00
- € 30,00
Venosa
€ 150.00
€ 190,00
- € 30,00
Viggianello
€ 280.00
€ 320,00
- € 50,00
Villa San Giovanni
€ 460.00
€ 500,00
- € 50,00
* total fare for number of passengers, excluding VAT 10%
The above rates are valid for companies with us directly affiliated and confirmed at the time of booking. In case our cars of partner companies are not available, other solutions will be proposed and agreed and, in this case, rates may vary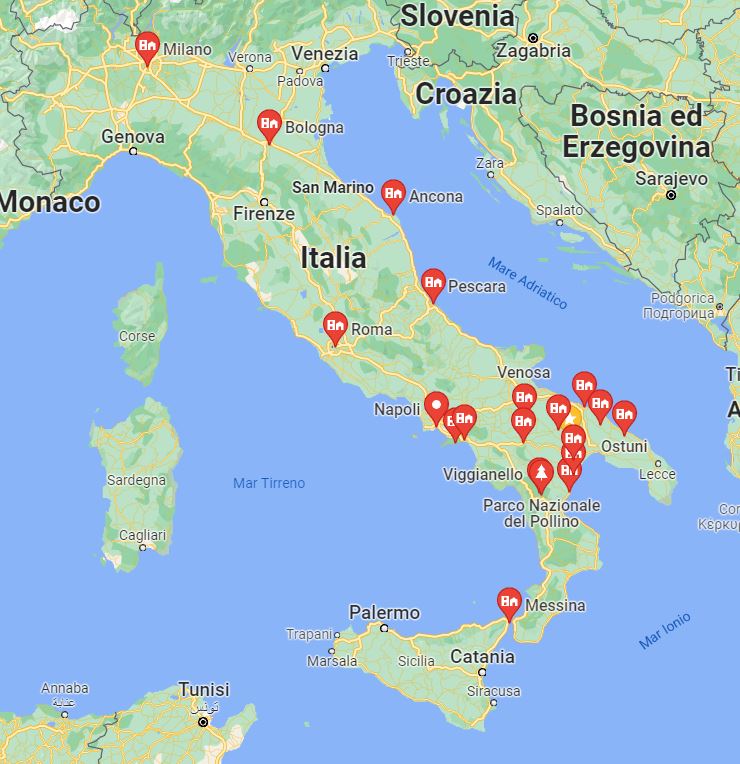 from 7:00 (car departure time from Matera)
to 21:00 (arrival time car in Matera)
from 21:00 to 7:00 check additionals charges
working days outside the time slot + € 10,00
Sunday surcharge +€ 10,00
driver available for the first 3 hours + € 30,00/h
driver at disposal from the fourth hour + € 25,00/h
driver waiting in case of flight or train delay.
Motorway tolls, car parks or ferry tickets;
Meals and overnight stays for full day driver;;
everything not expressly indicated in "the rates include"
in all cases where it is impossible to reach the desired places or carry out transfers for problems not arising from our will (such as road surface inaccessibility, snow, dangerous situations, etc.) We reserves the right to NOT MAKE the transfer in the times and places previously booked and to agree on the cancellation or variation of the transfer arrangements, as well as the rates on the days and times of departure or meeting.
Our rental services with driver
Cartoline di Matera (postcards from Matera)
We collect splendid professional and amateur and vintage photographs of Matera and the Sassi. 
Browse our Facebook page and click "Like" for your favorite photos